Where the 3 rivers meet...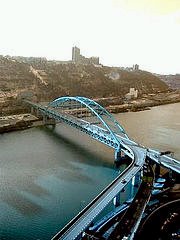 My Manager and I drove up to Pittsburgh, Pennsylvania this week to meet with a health care insurance client. It was an interesting experience.The state is beautiful, the people are extremely warm and polite and the drivers on the road are a disaster. They are more dangerous than NY drivers at the Bronx.
I took this picture from my client's office space. It is the meeting place of rivers; a confluence.
The Monongahela River drains southwestern Pennsylvania and parts of W. Virginia, Maryland and Virginia. The Allegheny River drains NW Pennsylvania and part of NY. These two rivers meet at Point State Park, beginning the Ohio River, which flows to the Mississippi River and reaches the Gulf of Mexico by New Orleans, Louisiana.
God's beautiful creation of Nature :-)